Posted: April 15, 2019
What is Mezcal?
The difference between Mezcal and Tequila amounts to much more than flavor. No worms necessary!
Both produced in Mexico from the piña (the core) of the agave plant, Mezcal and Tequila do share some roots. The definition of Mezcal is any spirit from the agave plant, and thus Tequila is actually a type of Mezcal. But just as Scotch and Bourbon are both types of Whiskey, the similarities end there. While Tequila must come from only blue agave and certain regions of Mexico, Mezcal can be made from over 30 different types of agave, each contributing its own nuances to the resulting spirit.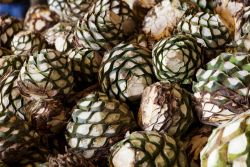 The distillation processes of Mezcal and Tequila are completely different. Tequila is produced by steaming the piña in ovens and then distilling the liquid multiple times in copper pots. While more modern methods are being used more often, traditionally (and some might argue optimally) Mezcal is made by cooking the piña in pits lined with lava rocks, wood and charcoal and then distilled in clay pots. This process results in the beautiful smoky flavor that is unique to Mezcal.
After distillation both Tequila and Mezcal are aged in oak barrels, and depending on the age the flavor changes dramatically. Tequila blanco/silver is aged 2 months or less while reposado is aged 2-12 months and anejo is aged from 1 to 3 years. Mezcal has similar age bands and names (reposado, anejo) except in its youngest bracket, called Mezcal joven at 0-2 months, or sometimes blanco or abacado.
The Myth of the Mezcal Worm
While you will still find some bottles of Mezcal with a worm, most do not. The 'worm' is actually a maguey moth (night butterfly Mariposa) larvae, a species that feeds off of maguey succulents like agave and they are actually eaten quite frequently in Mexico. Its hallucinogenic qualities are greatly exaggerated. The addition of this 'feature' was mainly a marketing gimmick created for the American market in order to increase popularity of the spirit, and as with most gimmicks, the good stuff sells itself just fine without it.
Fun fact: Tequila never ever has a worm in the bottle. The Mexican Standards Authority prohibits its addition to Tequila.
So What does it taste like?
If you're new to Mezcal you may find that you like it even if you're not a Tequila fan. It tends to be a bit sweeter, richer and smokier than Tequila. Sip it neat or try it in one of these delicious cocktails. You'll be surprised at how much depth a spirit swap to Mezcal can add to a cocktail classically made with Tequila, like a Paloma or Margarita! We are hosting a Tequila and Mezcal tasting on April 24, 2019 at Halo at the Point. Come join us and try a wide variety of Mezcals, Tequilas and cocktails.
The Pufferfish
Smoky And Spicy Paloma
Salt of the Earth
A Night in Bangkok
Pelotón Pina y el Maguey
Mezcal Mule