Posted: April 9, 2019
Level Up Your Tequila Knowledge!
A Q & A with Graciela González, brand ambassador - Tequila El Mayor
Graciela González, brand ambassador for Tequila El Mayor, sat down with us to answer some questions about El Mayor and how tequila is made.
Q: Can you tell us a little about Destiladora González González (El Mayor Tequila) and your role as a 4th generation distiller?

A: Destiladora Gonzalez Gonzalez started in 1986, when my father decided to go independent (he is the 3rd generation working in the Tequila industry, making me the 4th generation and the first woman working at the distillery of my family). At the moment I am in charge of innovation projects and representing the brands all over the USA. 
Q: Unique to tequila distillers, agave is used as the base ingredient for tequila (as opposed to grains, fruit or raw sugar as is the case in whisk(e)y, rum, brandy, and vodka). Can you give us a brief overview of the process of what it takes to turn the agave plant into tequila?

A: In order to produce Tequila, there are 5 steps: cooking, milling, fermentation distillation, and maturation. 
     - Cooking: The piñas are steamed cooked in large stainless steel ovens. They are cooked for 24 hours at a constant, even temperature to heighten their sugar content. 
     - Milling/ shredding: Cooked piñas are put through a mill, using the "molino" process. They are shredded into small pieces. The mill gently squeezes out sweet, amber juice.
     - Fermentation: Fermentation is the action of adding yeast to the agave juice, to convert sugar into alcoholic content. Yeast is added to begin fermentation. At DGG we have been using the same yeast strain for 125 years. Many details are needed to verify the exact strain during this important process
     - Distillation: The tequila is distilled exclusively in pot-stills, maintaining the tradition. The Master Distiller oversees taking care of the balance between flavor and taste. Distilled two times (Ordinario, Tequila), separated by heat and pressure to obtain the richest part of the "spirits" to produce our unique tequilas.
     - Maturation: While the Blanco variety is unaged, our Reposado and Añejo varieties are aged in charred, American White Oak barrels. Over time, the oak wood helps accentuate the flavor of the tequila. Once ready, quality control runs a full physical-chemical analysis to ensure complete quality and standards of our tequilas.
          - Reposado – 6 to 9 months (law requires 2 months)
          - Añejo – at least 18 months (law requires 12 months)
Q: Brandy and wine enthusiasts are familiar with the concept of terroir -- how the soil and location where grapes are grown can subtly affect a brandy or wine -- but less widely understood is how the conditions where agave is grown can influence the resulting tequila. As a distiller, what are you looking for when you're sourcing your ingredients?

A: For our 100% agave Tequilas, we look for agave that grows in the high lands and valley area at least 1600 meters above the sea level. Especially the ones that are in the rocky areas. 
Q: The tequila industry has seen enormous growth in the past 15 years, more than doubling in sales since 2004. Americans are drinking more tequila than ever before, and they're buying more top-shelf premium tequilas. What has changed to make tequila such a remarkable success story?

A: In my opinion, the quality of the tequilas has improved over the years, back in the day there were only a few brands that seemed to be very strong. Now you can find different profiles depending on the palate of the consumers. From hearty, bold spicy tequilas (which are amazing) to smooth well-balanced tequilas that are so elegant that are great to sip them and enjoy. Also the craftiness in the product, people are fascinated by it once they learn about the hard work on the fields, the magic at the distillery and the creativity in their packaging. If you think about it, at least it took 9 years to produce tequila blanco… 
Q: If you were looking to convert a skeptical whisk(e)y drinker, what would you recommend they try first?

A: Añejo, just because you would find certain similar notes… Añejo is aged at least for 12 months so the oak notes are extremely present.
 
Q: What's your favorite way to enjoy El Mayor Tequila?

A: It depends on my mood, my summer drink is El Mayor Blanco (in a tall glass) with sparkling water, sliced cucumber, and a twist of lime. I love to sip on the extra añejo, and I will never say no to a Manhattan with Añejo or margarita with Repo! 
EL MAYOR ANEJO
750ML
80 Proof
Tequila
EL MAYOR BLANCO
750ML
80 Proof
Tequila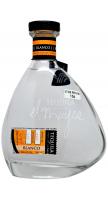 EL MAYOR REPOSADO
750ML
80 Proof
Tequila