Posted: January 17, 2020
An Ode to Allen's Coffee Brandy
For The Love of Three Stars
How much do Mainers love Allen's Coffee Brandy? This much.
For The Love of Three Stars
When the water has hardened
and the Jack-Traps are rigged
to keep yourself from freezing
what's there to be swigged?
If you're out haulin pots,
at the crack of the dawn
brace yourself in the spray
and swill til it's gone.
For those martinis in Portland
with ice and espresso
there ain't nothin finer or
more suited for a vessel.
Over ice, splash of Moxie
and equal parts of the booze,
it must be the finest,
none other we'd choose.
It comes in all shapes
any measure or size
but our choice overall
has to be the One-Point-Seventy-Five.
The drink for a toast
from our ol' Pine Tree State
it has to be Allen's
there is no debate!
Sombreros from Somerville,
White Russians from the coast,
this is the brandy
we love the most.
So crack open that handle,
and raise up a glass,
fill it with milk
give the Allen's a splash.
Here's to you Coffee Brandy,
our silky smooth friend.
Maine's true favorite liquor,
I'll drink you til the end!
Written by @allenscoffeebrandyfans
ALLENS COFFEE TRVLR
750ML
60 Proof
Brandy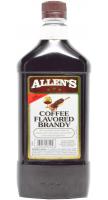 ALLENS COFFEE
1.75L
60 Proof
Brandy