Peachy Maple Leaf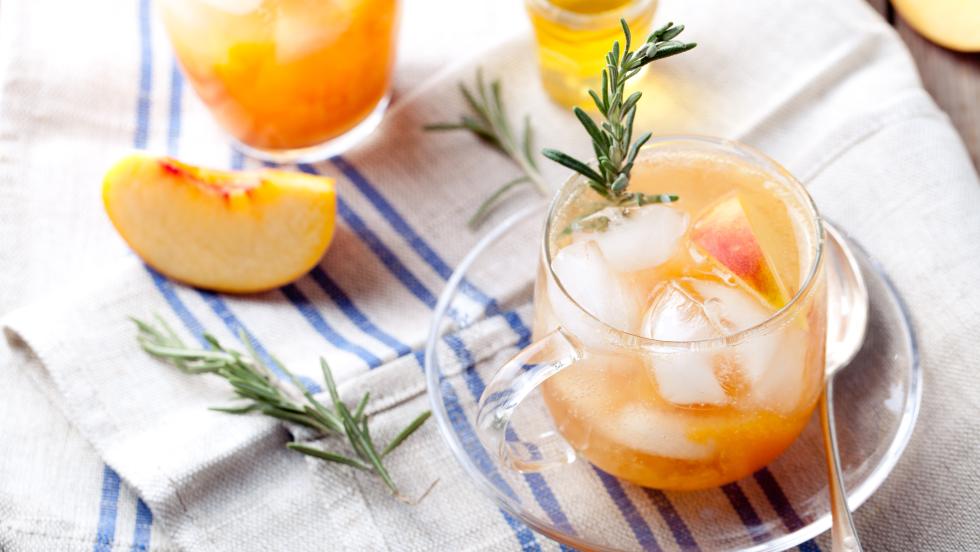 Mix It Yourself
Rosemary Maple Syrup
1/2 cup Maple Syrup
1/2 cup Water
Needles plucked from about 8 sprigs of rosemary
Directions
Combine ingredients in a small saucepan and bring to a simmer. Remove from heat and cover for 30 minutes to let the rosemary flavor infuse into the syrup. This syrup will keep in your fridge for up to 2 weeks.
Cocktail Ingredients
1/2 Ripe Peach
2 oz Rye Whiskey
1 TB Rosemary Maple Syrup
1 TB Lemon Juice
Sea Salt
Club Soda
Rosemary sprig and peach slices for garnish
Directions for Cocktail:
Muddle chopped peach in the bottom of a highball glass until juicy. Add syrup, lemon juice and whiskey and stir. Add ice and top with club soda. Garnish with a sprig of rosemary and slice of fresh peach. Sprinkle with sea salt to your taste.